Portable LAF Trolley/ Laminar Gas Flow Trolley also known as laminar flow trolley. It is equipment used to store and transfer contamination sensitive products, between two classified areas.
These laminar flow trolleys use unidirectional airflow to eliminate contamination during the transfer of sensitive products.
* Positive pressure (standard) for transporting non-hazardous sterile/sterile products/materials
* Negative pressure for hazardous products/materials.
* Flow using a vertical or horizontal.

Image of a cart with horizontal gas flow.
Features of Laminar gas flow trolley:
* Sealed weld type design.
* Transparent tempered glass door can see samples and products inside. In case of need for sound insulation, heat insulation, UV protection, infrared radiation to ensure the health of the operator, a dedicated box glass for clean room will be used.
* Vehicles equipped with differential pressure gauge: This device will give a number to help track the pressure drop after the airflow passes through the filter. This will help determine how clean to replace and maintain the system.
* Heavy-duty PU wheels, with safety lock against free-floating, specialized for clean rooms.
Stainless steel hinge, resistant to environmental corrosion.
* The push handle is designed to be flexible according to the requirements of the customer.
* The E-Stop button keeps the door open in case of an emergency.
* PLC programmable controller for audio and visual alarms.
With a team of highly skilled and professional staff, we advise and follow the requirements of customers! Hotline 093 143 54 54 - sales@congnghelockhi.vn. Air Purification Technology – All activities are aimed at protecting people and the environment.
Horizontal Airflow Mobile LAF Trolleys are used to store and transfer contamination sensitive products, between two classified areas.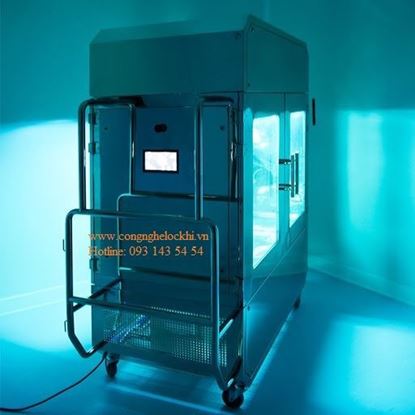 Vertical laminar flow trolleys are commonly used to transport hazardous products/materials. With negative pressure, hazardous products/materials are not released into the environment to ensure safety for operators and the surrounding environment.